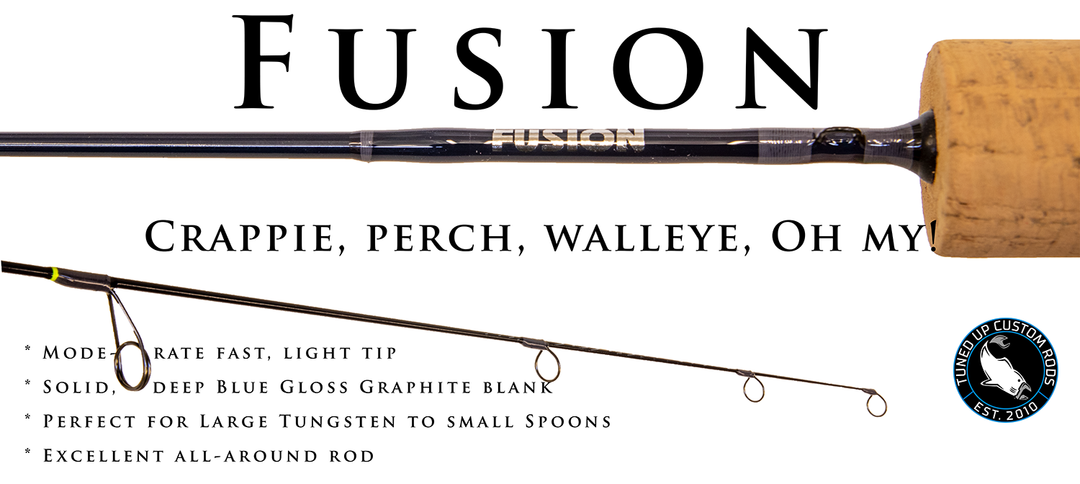 Custom Fusion
---
Canadian shipping available
One of our most versatile rods, the Fusion is at home with panfish and walleye anglers alike. Featuring a solid carbon fiber blank for extreme sensitivity and feel. The tip of this rod has a slower action than most of our rods. It transitions to the backbone more gradually, allowing the fish more time to get the bait into its mouth before the hookset. Once the backbone is reached, there is plenty of power to haul in your next wall mount.

3 Year Manufacturer's Warranty
If your rod becomes unusable due to breakage, warping, handle issues, or other reasons, you may be covered by the Tuned Up Custom Rods Three-Year Common-Sense Warranty.
3 Year No Questions Asked Accidental Breakage Warranty
Accidents happen. We want to get you back out as soon as possible. If your rod is unusable due to an accidental breakage it can be replaced with an equal rod for a $50 flat fee ($75 for open water rods).