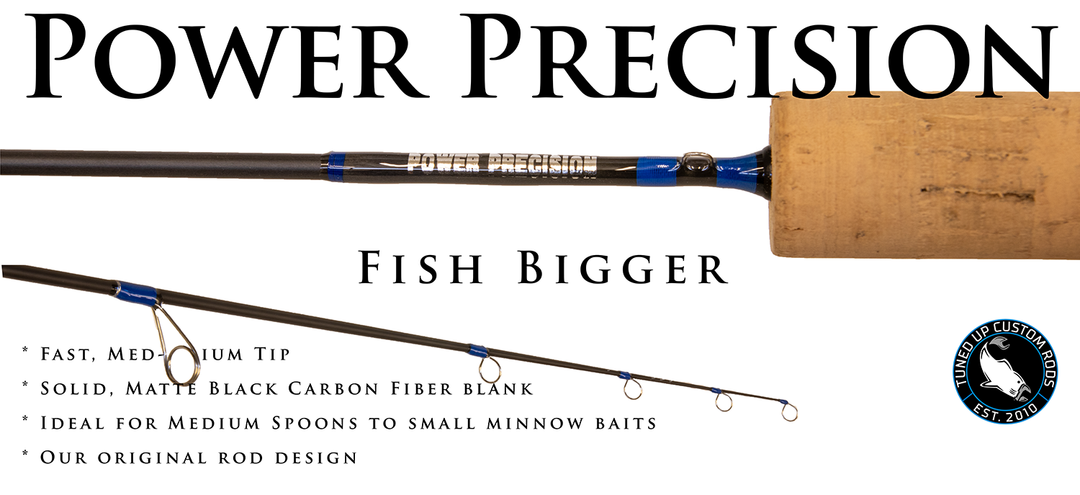 Power Precision
---
Canadian shipping available
***All New Redesign***

The All New Redesigned Power Precision finally lives up to the name that it bears. Now built on a totally new blank that features a smoother transition from tip to backbone. This ensures total control over a wide range of lures covering most spoons all the way up to medium sized minnow profile baits, such as #5 Rippn Raps. The new Power Precision is designed with enough "Power" to land your next trophy walleye and enough sensitivity to detect even the lightes cold front bites. Now featuring stunning Gold REC Recoil Ice guides and all black wraps. This rod stands out on the ice!
** If your item is not in stock, consider ordering it custom. **
3 Year Manufacturer's Warranty
If your rod becomes unusable due to breakage, warping, handle issues, or other reasons, you may be covered by the Tuned Up Custom Rods Three-Year Common-Sense Warranty.
3 Year No Questions Asked Accidental Breakage Warranty
Accidents happen. We want to get you back out as soon as possible. If your rod is unusable due to an accidental breakage it can be replaced with an equal rod for a $50 flat fee ($75 for open water rods).